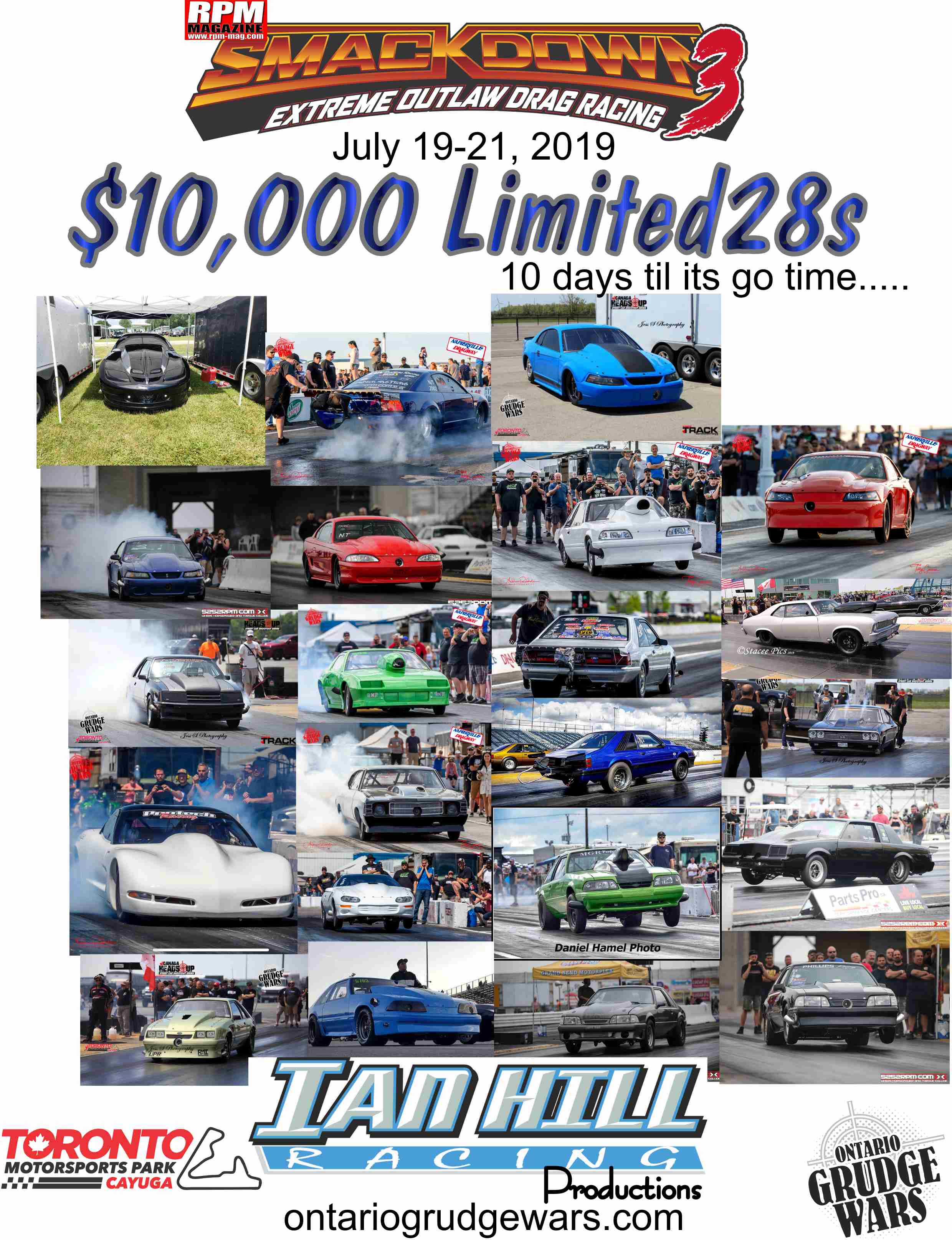 July 9, 2019 – From the office that makes shit happen at the super secret hide out of the OGW
With only 10 days to go till Southern Ontario's most exciting car event of the summer, the RPM Smackdown3 is shaping up to be the premier street car drag racing event of the year! Now in its 7th year in Ontario, No Time Grudge based racing is at its peak again this summer.
After what was the most action packed an afternoon/ evening could be, the 2018 2nd running of the Smackdown was off the charts with some great match ups in the Outlaw and Limited28s classes. The growth that the Real Street class saw from the Smackdown2 to the fall small tire shootout was equally impressive and 2019's RPM Magazine will be a show stopper! This year, with the addition of heads up classes 235Outlaws and Street Bikes, we are sure to put on a Saturday street car show of the old days! Add this with the large guaranteed payouts in Street275 and the Pro, Super Pro and Jr Dragster classes the July 19-21 weekend at Toronto Motorsports Park will be awesome!
The weekend features a test day Friday which flows into Saturday's Heads Up and Sportsman classes. The Heads Up classes feature Outlaw Extreme, a Clocks Off, limited rules classes for any doors cars with 10.5w tires or less running off their share of the $10,000 class purse. Limited28s, some would argue the most popular heads up class around these days, features stock appearing cars with a few rules, running on 28″ tires with unlimited HP! These bad ass small tire cars will also be shooting their guns in an effort to nab some of the $10,000 purse for their class. Street275 is back and hosts a $4000 purse, the new 235Outlaws are hitting the track for a $1000 purse as are the Street Bike jockeys! Add to the mix $6500 in bottom bulb sportsman payouts over the weekend, $9000 in top bulb dial in purses, $1800 in jr Dragster purses, and a $200 per day per class bonus to the Bikes and Sleds and Extreme8.80s winners…. then on top of it all there is a RPM Magazine Smackdown3 Heavy Weight Championship Belt on the line for each!
All in all a weekend for the racer with over $45,000 in Payouts ready for those that prove perfection and luck can go hand in hand, along side the perfect weekend for the drag racing street car enthusiast as the amazing show they will see on Saturday July 20th!
Check out our website for details and rules, sponsor links and some profiles of the greatest racers in our area!