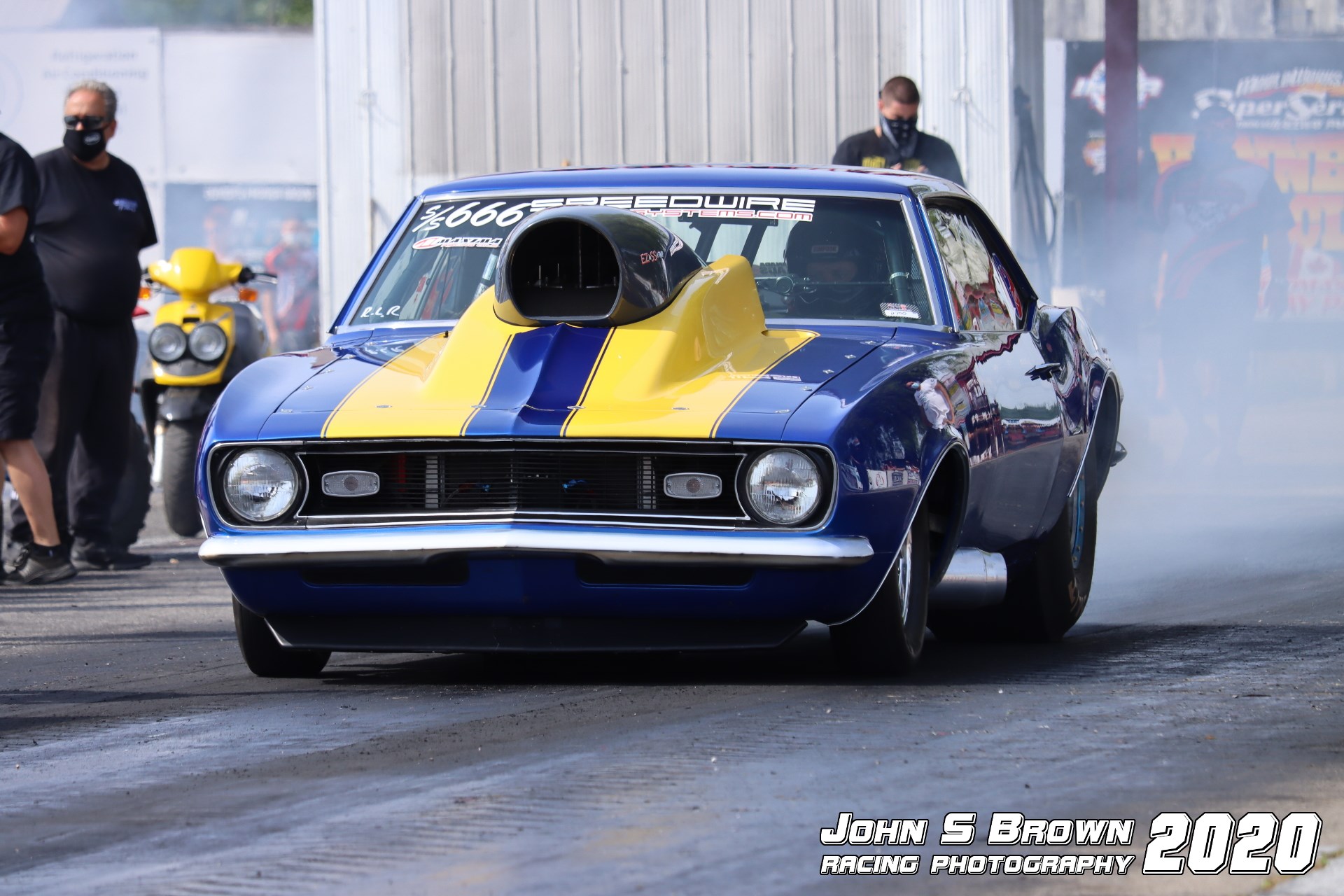 Race 1 – July 24-26, 2020
Race Review
To call this past race weekend a success is an understatement. The Pits at ST. Thomas Dragway were so full, we had racers pitting on the East side of the track. As far as entries go, how about 341 entries for our 3 day event!?!?!?! Add in at least another 200 Friday night test and tune entries, that at time near crimpled the return road, and this was a race for the history books as it was clearly the most entries we've ever had at a Ian Hill Racing Productions event.
Canada Heads Up – powered by Maxima Racing Oil race weekend #1 was set o be a hot one. Track prep gurus Corey Herman (GBM) and Mike Vanni (TMP) came together to help us make the best of the track in temperatures that peaked at 146 degrees! Friday's test session was well attended and as usual, by mid-day the track started to come around. While many of the Super Street and EZ Street competitors were killing he tire at the 20-70 foot mark, some of the 235Outlaws guys were showing that the starting line was right where they needed it to be get down on the smallest head up tire size on property! Traction was at a premium for race promoter Ian Hill's Grey Area as he drove under a huge wheelie, lifting all 4 tires off the track at about the 105ft mark. Friday at 5 the test session was over, the bbq's were lit and the TnT entries started to trickle in! All the race teams got back to the trailer to service their hot rods for Saturdays start to race 1!
By early Saturday morning we could see that we had ourselves on serious race on our hands. Not only were the Sportsman pits looking like they may well over flow, the bike pit area was wrapping around the East side of the track! The Heads-Up classes were highlighted by the rumor that 12 Super Street legal cars were on the property. Early reports from Canada Heads Up tech guy – Greg Miller confirmed "their were a ton of Super Street Cars!"… By the time Q1 (first qualifier) was called the rumors were confirmed – 12 Super Street cars had shown up to join our 2020 points series! There was every horse power combination from a Naturally Aspirated x-Pro Stock, big inch nitrous, big block Procharger, Roots Super Charger and Twin Turbo combos for a full rounded out field.
Race Day brought to you by Speedwire
Super Street –12 entries showed up for qualifying, the first time in 15 years the class has seen double digit entries! Nick Agostino set a new Canada Heads Up record in route to the #1 qualifier position @ 4.38 et (Nick uses Maxima Racing Oil)! Nick went all the way to the finals to win the event against ex-pro stock racer Tony Pontiere in a wicked close finish! The two cars in the finals couldn't be more different in their combos; Nick running heavy in his 69 camaro (regularly races Pro275)with an extremely large Small Block (4.600 bore space) twin turbos and a 2 speed transmission, while in the other lane Tony's x-pro stock (regularly ran Outlaw10.5) Cavalier runs ultra light with a 572 cubic inch naturally aspirated/ liberty 5 speed combination.
Our Street Bike class was dominated ET wise once again by Randy Hope running a string of low 9 second runs, however it was Nick Kempers that took the win!
EZ Street's Anthony Daversa met up with Matt Glassford for the third straight final round. This time it was Anthony Daversa that took the win! Great to note was to see regular No Time competitor Nick Kokkas come step it up to run in EZ Street and make his first run in the 4 second zone.
235Outlaws star Corrado Lentinello and his trusted blue fox body Mustang nailed the number 1 spot again, and lowered the current record while on his way there! The previous record was smashed, from 5.28 down to 5.19. This only because he didn't back up his 5.10 et run! Corrado took out Dean Carmine in the finals.
The rest of our winners were:
Street275 – EJ Gouveir
Wicked 6.50 Craig Degouw
Extreme 8.80 Bike – Karen Hope
Saturdays Sportsman class winners:
Pro – Drew Buchner
Super Pro – Joe Passero
Bikes and Sleds – Landon Swain
Jr Drgaster – Kami Scott
(Consi – Kate Gingerich)
Sundays:
Pro – Cliff Knechtel
Super Pro – Wyatt Henderson
Bikes and Sleds – Murray Lonsbury
Jr Dragster – Arnold Fox
(Consi – Austin Vermeulen)
End of year – Agostino/ Zarcone bonus – $500 goes to each of the quickest ET over the 3 race series. So far your current low et holders are:
EZ- Boost: Canadian Dave 5.23
EZ Nitrous: Anthony Daversa 4.95
SS- Boost: Nick Agostino 4.38
SS-Nitrous: Pano Moros 4.55
Records were set, from the amount of entries to the performance on the track! For our first event being run with the new management of St Thomas Dragway we believe the weekend was a big hit and we cant wait to head back there for race 2 of the Canada Heads Up – Street Car Shootout Series powered by Maxima Racing Oil Aug 14-16, 2020!
Thank you, again for all your support in 2020!
Ian Hill
Director – Canada Heads Up